A series of live dispatches by if:book's own Meg Vann from the O'Reilly Tools of Change Publishing Conference in New York City. Day 2 of the 7th edition at TOC. My jetlaggy night's sleep somehow allowed my brain to distill yesterday's Author (R)evolution. In the age of content abundance that is now upon us, it's all about the 3Ds:
Development
Distribution
Discovery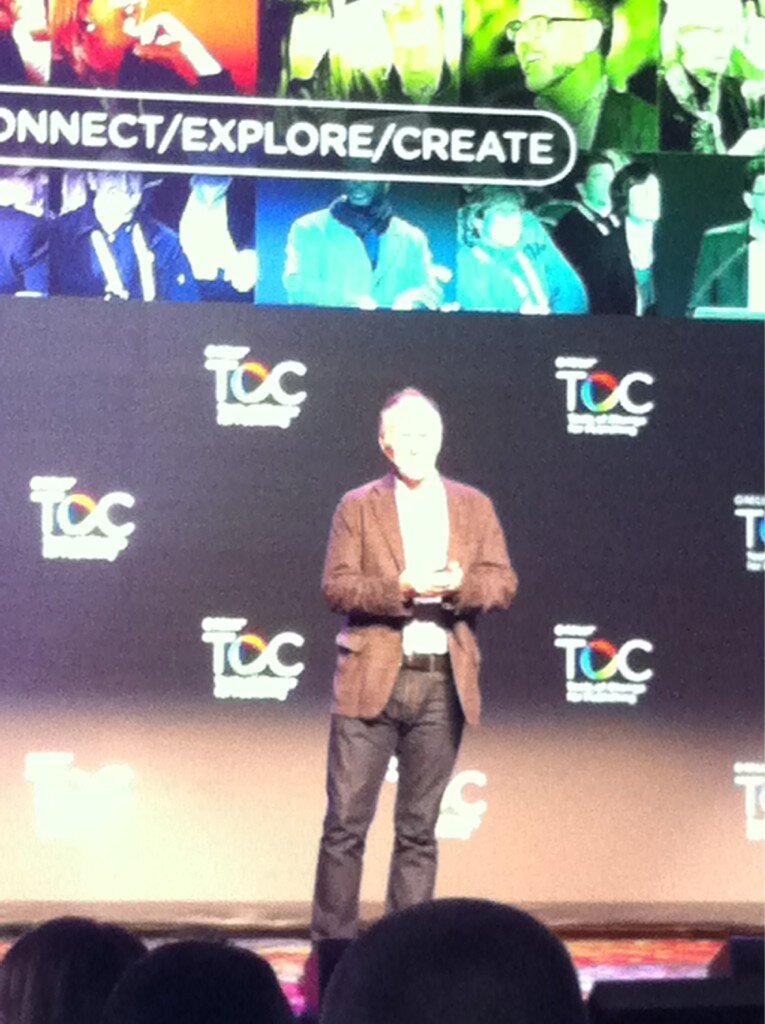 And authors need to start thinking about all 3Ds from the beginning of each project and across the lifespan of their writing career.
Okay, Joe Wickhart and Kat Meyer, both so super smart and adorable, are on stage to kick off day 2 with our first guest speaker, TOC founder, Tim O'Reilly himself! (I met him briefly last night - swoon - Kate, I said hi from you, and he says hi right back!).
Notes from Tim O'Reilly's key note: Some Reasons for Optimism Trying to figure out to make the right futures happen for publishing. He launched TOC to move publishing into the future. This is the first year that book sales haven't fallen below the previous year. The fear that the new thing is going to be a bad thing is finally going away. Innovators en up in the drivers seat - the future happens because there are people who aren't afraid of it.
The fan phenomenon that was apparent for YouTube contributors noted at VidCon in 2005, is happening in publishing, too. See John Green and his brother Hank.
There are new methods of discovery, the are authors and publishers who know how to build communities online – opportunities becoming clear to those of us not afraid of the future but who are trying to figure it out. GoodReads has a lot more reviews than Amazon – fans in charge, not retailers.
If you're a publisher and all you're thinking about is books and ebooks you're in trouble because the footprint online must be bigger than just the book – that's why O'Reilly is so diversified.
"For me there is no bright line between publishing and making stuff on the internet" — John Green.
People worry about business models and survival, but readers and writers are both doing fine. We should be thinking and talking about why we are here: why do writers write, why do publishers do what they do - we are not all here to just fill up the gas tanks of our businesses. Our job is to educate, entertain, gather the knowledge of the world and share it with other people.
It's not about how much money you make, it's about how much difference you make – it's the Work on Stuff that matters.